Welcome to the testimonial page of Comedy & Caricatures.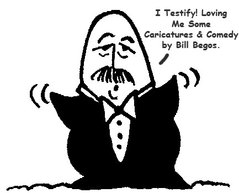 I booked Bill for my wedding and he was a huge hit with my guests. He was great with communication prior to the event and wonderful the day of. I highly recommend his talent for a fun twist on wedding receptions!
Jessica Berzowski
https://www.gigsalad.com/caricatures_comedy_more_milwaukee/review/110287





Dear Bill,

Thank you for bringing your talents to our client's employee picnic on June 1st! We have had positive feedback from the client and guests! Please accept a token of appreciation on behalf of Amerequip for your great work!


Regards,

Kara


Bill was very talented and made the wedding day experience for our guests that much more special. He kept our guests entertained for hours with his comedy as he did his caricatures. Definitely recommend him for your next event, you won't be disappointed.
Todd Meisner
Bill,
Thank you for participating in this event, it was a pleasure meeting and working with you. I received many great reviews and comments on you and your great work!!! I look forward to working with you in the future.
Scott Batterham
"He was very professional and I was amazed at how fast he could draw the children pictures. The drawing were absolutely amazing and beautiful!! Bill was the hit of the party and I have received many compliments from the moms about their drawings. Thank you soo much!!"
- Yee Schmidt
I was thrilled with the work that Bill did for us. He used his talent, was professional, and efficient. The caricature generated a lot of excitement.
Thanks!

April Mair
Johnsonville Sausage, LLC
Thank you so much for coming to our event you did a great job and I am looking forward to working with you in the future.
Thanks again! J
Stephanie Hewitt
Caricatures & Comedy by Bill Begos is an absolute must for a wedding! Bill comes to your wedding and draws life like Caricatures of your guests. His drawings are very tasteful and depict an extremely strong likeness to his subjects. Bill is very professional and a lot of fun. I heard nothing but rave reviews of Bill and his work. Everyone said it brought that "something special" to our wedding they will never forget! Almost all of my guests got their prints matted and framed and are now hanging in their homes on display. It's a wonderful feeling to enter someone's home and see something from your wedding. Wedding favors get lost over time but Bill's work stays forever! Out of everything in my wedding, Bill's service was the most memorable and the best!
Thanks Bill,
Jodi Mickler-Bartos

Hi Bill!

I just wanted to say THANK YOU again for coming in -- drawing us and talking with us. It was really fun having you in and your work is just fantastic! I knew from looking at your work online that you were at talented artist, but I had no idea you had such a great sense of humor. That was a very nice surprise! THANKS AGAIN!

Meg
Meg McKenzie

Hi Bill,
Just wanted to follow up with an email thanking you so much for a great job drawing our family's portraits. It was a huge surprise for everyone to have you there and they had so much fun. We love ours and will treasure your beautifully fun work. Thanks so much!
Many thanks again!
Warmly,
Nikki Packee
Hello Bill,

I just wanted to thank you for doing a great job.
this is what your client said about you.

"We were very happy with Bill and his work and would recommend him for
future events. Not only is he talented, but his attitude is positive
and he has a great sense of humor."

Thanks again
Melanie


Melanie King
Independent Talent Source
www.Independent-Talent-Source.com
Bill was fabulous! He was great with all guests at my daughters baptism. We had 140 ppl - age range 4 months -80! He worked ceaselessly for 4 hours. Professional, polite, and a great artist. I highly recommend Bill.
-Joanna P, 11/21/2010, Christening, Glenview, IL
Bill was wonderfully entertaining, gave more than was asked for, and someone I would book again for other events!
-Anita M, 8/8/2010, Banquet, Capron, IL
The audience loved Bill and can he draw!! The music and the caricatures were great. He was very engaging with the audience and fhe kept them laughing. I would highly recommend Bill to anyone and have done so to our other senior buildings. Thank you, Suzanne Steiner Leasng Consultant, Hill Crest Senior Apartments



Thank you so much for the "Awesome" entertainment last night at our Community Fair. I think it was the "Highlight" of many fair goers night. I will let you know what our plans are for homecoming and other scheduled events here in Hustisford. Look forward to working with you again.





Thanks again for your service to our community!





Cindy Fitzsimmons




CE Director
Hustisford School DIstrict
Dear Bill -
Thank you again for helping make our Rio Street Dance activities such a great success!
Your talent is amazing and I know very much enjoyed and appreciated by all. You are great
to work with and I look forward to future years in working together as well. I finally got one of

the drawings for one of my children and it's fantastic!

Thank you and best wishes!

Karrie & The Rio Community Club
Bill,
Thank YOU!!!!!!!!!!!!!!!! It seemed like a great day and everyone was having fun! We would love
to have you back next year.
Michelle
Thank you for helping to make the Eisenhower High School 2013 Junior Prom a huge success. We appreciate your artistic touch at our Post Prom.
Sincerely,
Kris Peterson(Prom Advisor) & Prom Steering Committee
​
---